Videos
Pick a video to watch
John Blake — The Man, The Legend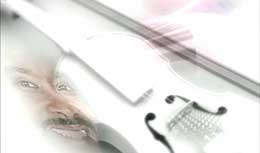 A Note of Hope documentary trailer
This video is best viewed using a broadband connection. If you have any problems viewing it online, hit the stop button (second button from the left in the controls), wait for the video to load completely (watch the progress bar), then hit the play button (right arrow at the far left in the controls).
This is the first trailer for the forthcoming documentary, "A Note of Hope," from Citygate Films. Currently halfway through production, this film is part music appreciation, part humanitarian documentary. It explores the legacy of faith of the traditional American Negro spiritual through the experiences of jazz musicians John Blake Jr., Gerald Veasley, Sumi Tonooka, Rosella Clemmons Washington, and Harry "Butch" Reed. This trailer points to the upcoming September 2009 Africa tour that this group will make as they return to the musical roots of this song form and share the spiritual heritage of this music with those who still suffer today — children left parentless by AIDS.
Arrangements by John Blake, Jr.
Credits: Carolyn McCulley (director/producer/writer), David Altrogge (assistant director/camera), Michael Hartnett (DP/camera/DIT/editor), Drew Painter (DP/camera), (Andrew Gallo (camera/titles), Daniel McNeill (editor), John David Maresco (audio/grip), Johnny Altrogge (audio/grip), Dallas Taylor (sound mix/design).
Copyright 2009 Citygate Films LLC
Performance at Berklee College of Music: "The Spiritual Song" with the John Blake Quartet